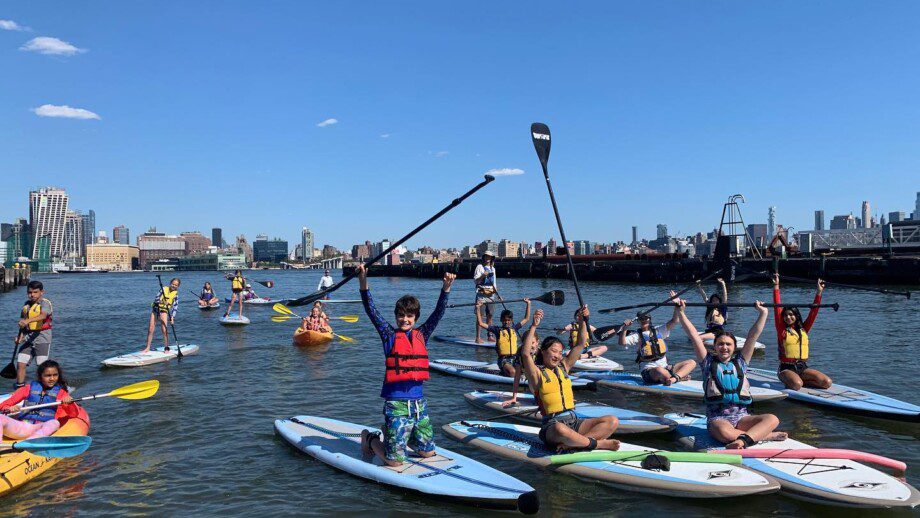 Resilience Paddle Sports
Address
1301 Sinatra Drive North
Hoboken
New Jersey
United States
---
About
Resilience Paddle Sports was developed in 2013 at Pier 13 in Hoboken to address the need for easily accessible, daily paddling opportunities and to educate people about the Hudson River estuary. Resilience strives to provide guided paddling for fitness and wellness as well as progressive skill development for those who want to take up racing, touring or just go out on their own. At Resilience, we believe that paddling on the river and in the Harbor can lead to better understanding and stronger commitment to stewardship of the coastal ecosystems, particularly on the NJ side of the Hudson River. Also, the more people there are recreating on the Hudson and in the Harbor, the greater the pressure will be on local NY/NJ leaders to continue improving water quality and maintaining it as a legacy for future generations.  Check out the Harbor Coalition to learn more about this effort.
So, why not try out paddling on the Hudson River from convenient Pier 13 in Hoboken! The Hudson River and NY/NJ Harbor is really the last bit of wilderness in this extreme urban life of the tri-state region. Kayaking and Stand Up Paddling provide an excellent full body work-out to supplement time at the gym. Daily balance and relaxation, essential to maintaining health and wellness is readily accessible on the water. There is nothing more peaceful than getting out of the city and paddling to calm your mind at the end of a busy work day or reset your priorities on a weekend morning. Maybe you want a social outing? Paddle with friends and then stay for food and drinks at Pier 13! Newcomers to paddling may want a tour or ongoing training to improve technique in order to venture out on self-guided paddling experiences. Either way, Resilience Paddle Sports offers classes and tours designed to increase paddling skills, promote boating safety awareness and get more people out enjoying the water.
Additional details
Boat(s) in Use:

--

Available Gear:

--

Hours of Operation:

8am - 8pm daily

Reservations Required:

Trips often sell out. Advance purchase strongly recommended. You may book online from our website.
Water Located On:

Hudson River

Water Temperature:

--

Other Watercraft Traffic:

--
Additional on-site activities, accommodations:

--