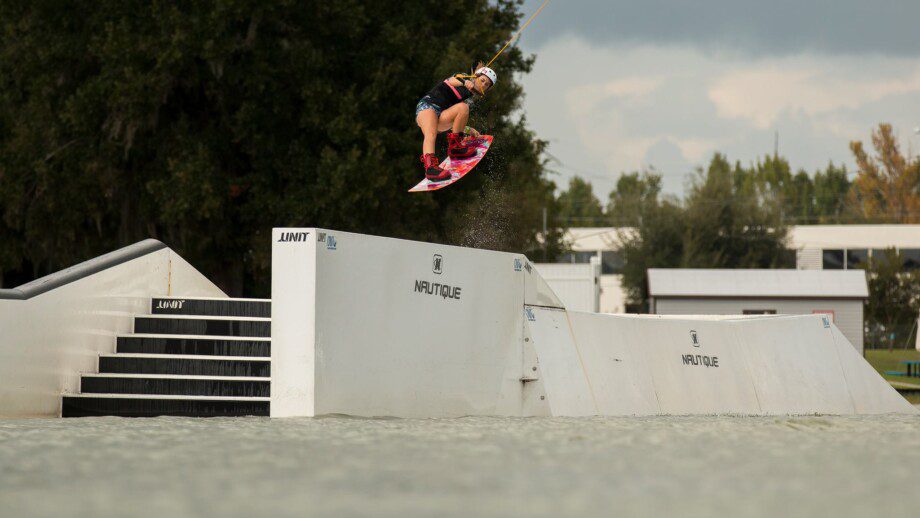 Orlando Watersports Complex
Cable Wake Parks
Water Sport Schools
Address
8615 Florida Rock Rd.
Orlando
Florida
United States
Email:

Alt. Email:

Phone:

Website:

Instagram:

Facebook:
Water Sports
Wakeboard
Waterski
Wakesurf
Wakeskate
Kneeboard
Tricks
Wake Ski
SUP
Features
Rails/Kickers/Ramps/Boxes, Slalom Course
---
About
Orlando Watersports Complex (OWC) is a unique watersports park designed for wakeboarding, wakeskating, wakesurfing, kneeboarding and waterskiing. OWC is set up with two full size cable systems, a two-tower system and a boat lake.
The two-tower system is great for teaching new riders the basics while their beginner full size cable provides riders with the tools to create a solid wakeboarding foundation. The beginner full size cable has a variety of features perfect for the beginner to advanced rider. It also features a 6 buoy slalom course for waterskiers. For the advanced riders, there is the advanced cable, which offers experienced riders many different advanced features: 2 kickers, 1 ramp, 1 UNIT signature slider, 1 A-frame rail, 1 box, 1 transfer box and 1 transfer rooftop.
At the OWC boat lake, you can go wakeboarding or wakesurfing behind an awesome Nautique G23 or waterski behind their incredible Nautique 200.
OWC's coaches are trained by some of best in the industry including Mike Ferraro, Ryan Jones, and four time world champion Shaun Murray. Riders have many options to choose from depending on their level of experience. For the first timer though, there is no better experience than the "Get Up Guarantee."
OWC also offers basketball, ping pong, volleyball, stand up paddle boarding & a great beach area with hammocks and lounge chairs.
OWC has hosted the largest events in the industry including Pro Tour Stops, Wake Games, Monster Triple Crown and the National Points Chase Finals.
Additional details
Boat(s) in Use:

Ski Nautique (with tower) and Super Air 230 Nautique

Available Gear:

HO, Hyperlite, CWB, O'Brien & Byerly

Hours of Operation:

Year round, 11am-6pm. Extended hours for the summer!

Reservations Required:

Yes (for boat and cable lessons only).
Water Located On:

Cable, boat & Sesitec System 2.0 Lake

Water Temperature:

--

Other Watercraft Traffic:

--
Additional on-site activities, accommodations:

Performance Ski & Surf Pro Shop, the Starting Dock Cafe, covered patio, basketball, ping pong, stand up paddle boarding, volleyball court & beach with hammocks and lounge chairs.