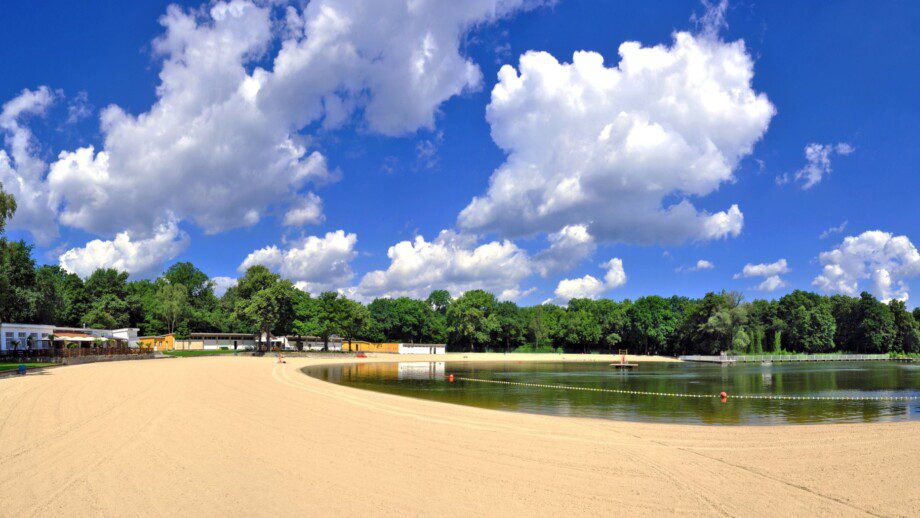 Strandbad Jungfernheide
Address
Jungfernheideweg 60
13629 Berlin
Berlin
Germany
Water Sports
Wakeboard
Waterski
Wakesurf
Hydrofoil
SUP
---
About
Take a vacation in Berlin!
Just ten minutes away from Kurfürstendamm in Berlin, Germany, you will find your little paradise as a busy city dweller. The lido with tradition offers everything you need to either let your soul dangle in the water or to get in full swing with beach sports.
The water ski facility in the heart of Berlin offers both water sports beginners and professionals a great opportunity to escape the stress of everyday life in an idyllic setting. The lido is surrounded by a park with tall trees and is very sheltered from the wind. For this reason, you glide across the lake on the mirror-smooth surface of the water. The facility is particularly suitable for wakeboard beginners from the age of 8, as the individual support allows the speed to be adapted to the ability of each rider. We provide assistance and small tips to ensure that driving success is not too long in coming. If you fall into the water, unlike traditional water ski facilities, there is the possibility to start again on the spot. Waiting times are completely eliminated.
No matter where you want to use hydrofoiling later, whether for windsurfing, kiting or wingsurfing, experience has shown that riding a wing on a 2-mast system can be learned within a short time. If you have experience on a wakeboard or surfboard, you will be able to experience the feeling of floating the first time. Slow, sensitive control of the system prevents the foil from shooting out of the water and flying uncontrolled through the air. After a short theoretical instruction, you can start. You start out of the water like a wakeboard. You only go so fast that the board just starts gliding. Only now is the speed sensitively increased and the wing begins to hover. By slowly introducing the behavior of the hydrofoil, you will be able to experience the first gliding successes after a short time. We're not talking about days that are usually needed for foiling courses with a kite or windsurfer. Here you can experience in a very short time how floating works. Tests have shown that kiters, windsurfers and wingfoilers were able to implement the skills they had learned immediately after their first experience of foiling on the facility. There is no faster and safer way to learn this new sport.
The Jungfernheide lido offers a large, fine sandy beach that is raked daily before bathing and regularly cleaned with the sand cleaning machine. We invite you to relax on the partly shady lawns. Swimming and sun loungers are available for you. In addition, the beach area has a long bathing jetty with a 50-meter lane.
Additional details
Boat(s) in Use:

--

Available Gear:

--

Hours of Operation:

--

Reservations Required:

Tickets can only be booked online.
Water Located On:

Jungfernheideteich Lake

Water Temperature:

--

Other Watercraft Traffic:

--
Additional on-site activities, accommodations:

Beach house with gastronomy, volleyball, beach with swimming