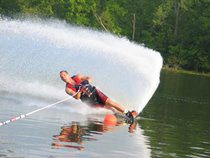 Music City Ski Club
Address
1205 Pointe Place
Old Hickory
Tennessee
United States
Email:

Alt. Email:

Phone:

Website:
---
About
Our club holds several ski clinics annually. We hold these clinics, including the Adaptive Water Ski Clinic, In-His-Wakes Ski Clinic and the Boy Scouts Learn to Ski Clinic to share our passion for the water and promote water skiing.
After 25 years of boat traffic in the ski cove, the shoreline has receded several feet. Five years ago, in an attempt to abate this erosion, the club began a shoreline project. Our efforts, wholeheartedly approved by the U.S. Army Corps of Engineers, have included lining the shoreline with both rock and plants. It may take another year or two to fully compete this project and time will reveal how successful this will be. Another project in its infancy, is creating a wave brake system to help attenuate boat rollers entering our course.
Feel free to join us and become a part of this historic club. Our course site is just around the bend from Fate Sanders Marina in Old Hickory, Tennessee.
Additional details
Boat(s) in Use:

--

Available Gear:

Please bring own equipment

Hours of Operation:

Please contact in advance to arrange

Reservations Required:

Please contact in advance to arrange
Water Located On:

Percy Priest Lake

Water Temperature:

--

Other Watercraft Traffic:

--
Additional on-site activities, accommodations:

--