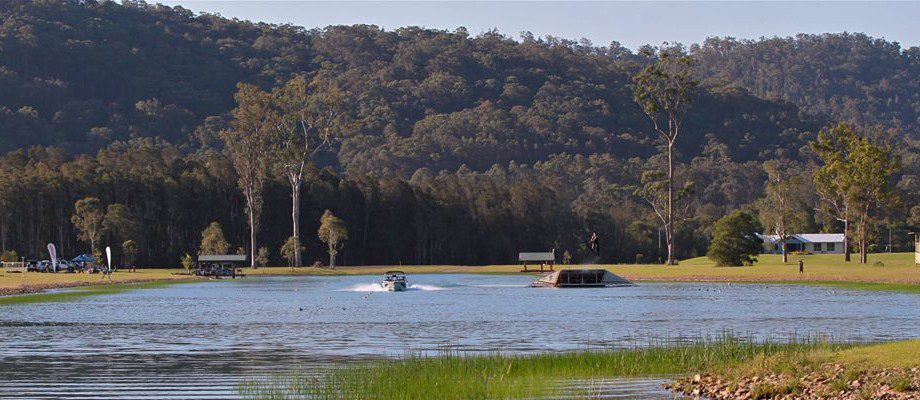 Stoney Park Waterski & Wakeboard Park
Water Sport Schools
Water Sport Resorts
Water Sport Charters
Address
16 Hacks Ferry Rd
Telegraph Point
New South Wales
Australia
Email:

Alt. Email:

Phone:

Alt. Phone:

Website:

Instagram:

Facebook:
Water Sports
Wakeboard
Waterski
Wakeskate
Kneeboard
Barefoot
Tricks
Jump
Disabled
Features
Rails/Kickers/Ramps/Boxes, Slalom Course, Jump Ramp
---
About
Stoney Park is the fantastic Holiday Park and Watersports Complex located at Telegraph Point, just north of Port Macquarie, Australia. It is Australia's premier waterski and wakeboard school. They offer lessons for riders and skiers from the beginner through to the elite. Stoney Park is proud to have created the ultimate waterski and wakeboard paradise, boasting two private, man-made lakes which are fully equipped with slalom courses, jumps, sliders and kicker ramps. The lakes have been specifically designed at right angles to each other, to allow for optimum waterskiing and wakeboarding in any conditions. Stoney Park's full time ski school caters to everyone, from the 1st time novice to the seasoned professional. Whether its slalom, barefooting, trick skiing or jumping that interests you, Stoney Park can help you learn and improve. All personalized, one-on-one waterski coaching takes place behind new MasterCraft Pro Stars. They even have a training bar to help beginners learn quickly. Stoney Park also operates a full time wakeboard school, catering to all levels of wakeboarding - from beginner through to advanced. Your wakeboarding experience will be made fun and exciting behind their brand new Mastercraft Pro Star 190 or 197, which are fully equipped with high poles, cruise control and all the latest gear. If you are looking for something different on the water other than waterskiing and wakeboarding, Stoney Park provides a fun and exciting time on the water with tube riding. Their tubes can hold up to three people at one time. Get ready to go for the ride of your life! Stoney Park has all the waterskiing and wakeboarding equipment needed for every level of age and ability. You are also most welcome to bring along your own gear to use. Looking to stay for a few days? Stoney Park offers a full range of onsite accommodations, including a lakeview lodge, villas, cabins, camping and a bunkhouse.
Additional details
Boat(s) in Use:

MasterCrafts

Available Gear:

HO, Radar, Hyperlite, Masterline, Follow Me, Wing & more

Hours of Operation:

1st September- 31st May, 7 days/wk, 9am-5pm. Bookings essential.

Reservations Required:

Yes
Water Located On:

2 private lakes

Water Temperature:

--

Other Watercraft Traffic:

Two private purpose built Man Man Lakes. Only one boat on lake at any one time.
Additional on-site activities, accommodations:

Lakeview lodge; villas; small family cabins; bunkhouse rooms; campsites