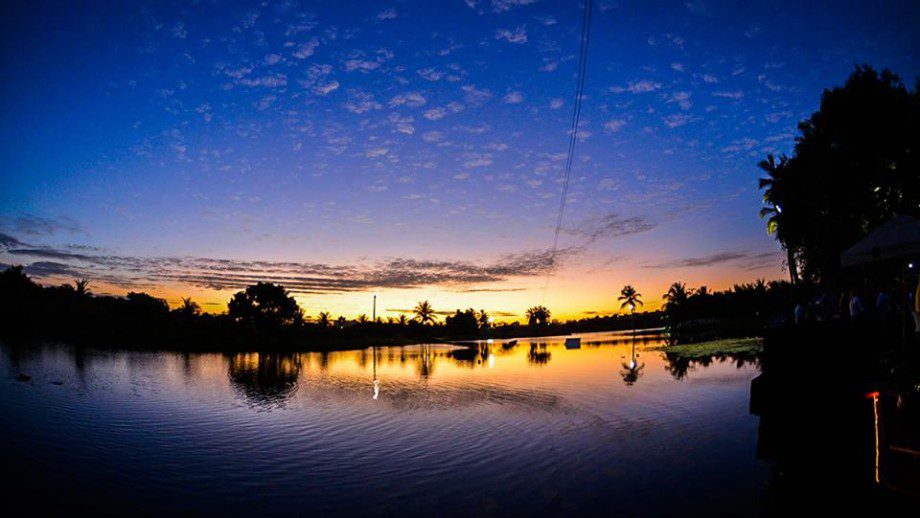 Colosso Fortaleza
Cable Wake Parks
Water Sport Schools
Address
R. Des. Agenor Studart
300 - Edson Queiroz
Fortaleza
Ceará
Brazil
Email:

(Please use the contact form on our website.)

Alt. Email:

Phone:
Water Sports
Wakeboard
Waterski
Wakesurf
Wakeskate
Kneeboard
Barefoot
Tricks
Wake Ski
SUP
Features
Rails/Kickers/Ramps/Boxes, Jump Ramp
---
About
Located right in the middle of Fortaleza with beautiful parklands all around, Colosso Fortaleza is the perfect place to practice wakeboarding, wakeskating and kneeboarding. We also offer a beautiful setting for SUP! Colosso Fortaleza offers the best of both worlds for riders- a Sesitec 2.0 wake park and a boat lake. The System 2.0 cable is on a lake with a streak of spine-kickers for training maneuvers on both sides, as well as a 25 meter flat slider bar-one of the longest in the country. For boat sessions, there is a slider and a step-up 18 meter flat-bar. Colossus Fortaleza also offers the opportunity to ride at night, as the cable lake is well lit. Colossus also offers professional instructors on site, along with stand up paddle boarding (SUP), if you're looking for something else to do on the water. Local perfeito para a prática do wake, com instrutores profissionais no local e uma ótima infra-estrutura. Um lugar paradisíaco dentro de Fortaleza, com natureza ao redor, ótimo para praticar wake com radicalidade e bem-estar. O Colosso é palco de grandes eventos amadores e profissionais do esporte durante o ano inteiro. A raia do cable contém um spine-kicker para treinar manobras nas alturas para os dois lados como também um slider flat-bar de 25 metros, sendo um dos mais longos do país. No local dá também para praticar wake na lancha ou sessões de Jet-ski nos obstáculos da raia da lancha, onde há um slider step-up e um flat-bar de 18m. O Colosso Wakepark oferece também a possibilidade de praticar wake a noite, pois a raia do cable é bem iluminada. Recém inaugurado em Fortaleza, no complexo de wakeboard do Colosso. Consiste em um Cable System 2.0 é o único no país da renomada empresa de sistema de cabos alemã Sesitec. É o melhor e mais utilizado sistema para eventos portáteis como Rail Jams e o famoso Wakelab e Wake The Line. Fica situada na avenida Washington Soares, dentro de Fortaleza, à 5 minutos do Shopping Iguatemi e diversos restaurantes, como também bem perto das famosas praias da cidade.
Additional details
Boat(s) in Use:

MasterCraft Wakestar 215 (330HP) and Wakemaster 19 (310HP)

Available Gear:

Wakeboard / WakeSkate / WakeSurf - Liquid Force, Ronix, Navis

Hours of Operation:

Boat: Weekdays 1pm-6pm / Weekends 8am to 6pm. Cable: Tues-Thur 2pm-8pm / Fri-Sun 10am-8pm. (Cable closed Mondays.)

Reservations Required:

Required for boat pulls /Recommended for cable sessions.
Water Located On:

Lagoa do Colosso

Water Temperature:

Warm 25 degrees C year round

Other Watercraft Traffic:

None- Private Lagoon (2 boat areas, 1 jetski and a cable área)
Additional on-site activities, accommodations:

--