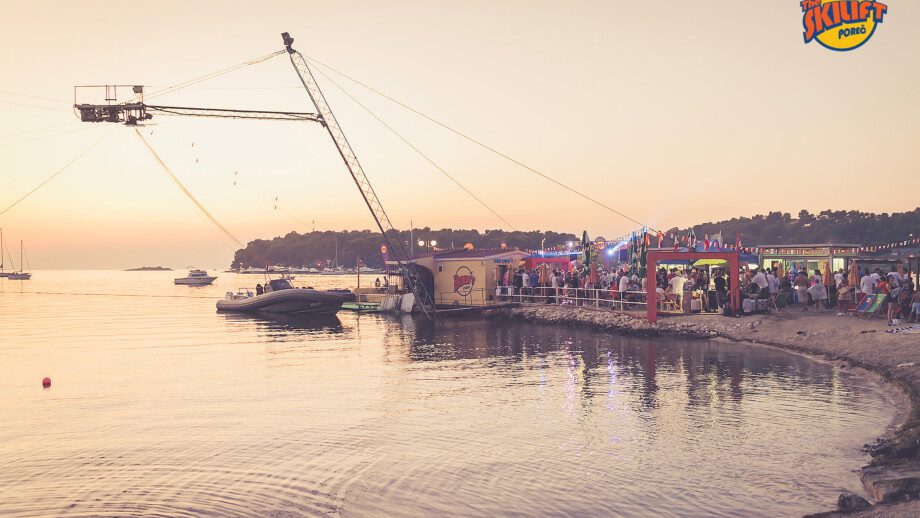 Ski Lift Poreč
Address
Zelena Laguna
Porec
Istarska županija
Croatia
Email:

ivan.opacak@hotmail.com

Phone:

Website:

Instagram:

Facebook:
Water Sports
Wakeboard
Waterski
Wakesurf
Wakeskate
Kneeboard
Tricks
Jump
Wake Ski
Disabled
Features
Rails/Kickers/Ramps/Boxes, Slalom Course
---
About
Ski Lift Poreč is a 650-meter long cableway for water skiing (sport and recreation) in Zelena Laguna. On Ski-Lift Poreč you can ski on speeds ranging from 30 kilometer per hour on all kinds of known/used skis and water-ski boards. Professional equipment can be rented out while the usual amateur equipment (skis, kneeboard, mono-ski, trick-ski) and security gear are available for your use with a purchased ticket. Parties, amateur and professional competitions in waterskiing, tennis schools, beach valley tournaments as well as tournaments in sand football are regularly held on Ski Lift Poreč. The skiing season on Ski-Lift Poreč starts each year on Easter weekend, ending late into the month of November.
Additional details
Boat(s) in Use:

--

Available Gear:

Skis, kneeboards, trick skis, wakeboards, wakeskates, wakesurf boards.

Hours of Operation:

April-November / 10am-8pm Hours vary each season.

Reservations Required:

Yes
Water Located On:

Adriatic Sea

Water Temperature:

Please visit http://www.istraweb.net/webcam/meteo2/default.aspx?j=

Other Watercraft Traffic:

--
Additional on-site activities, accommodations:

Hotel nearby, Restaurant.