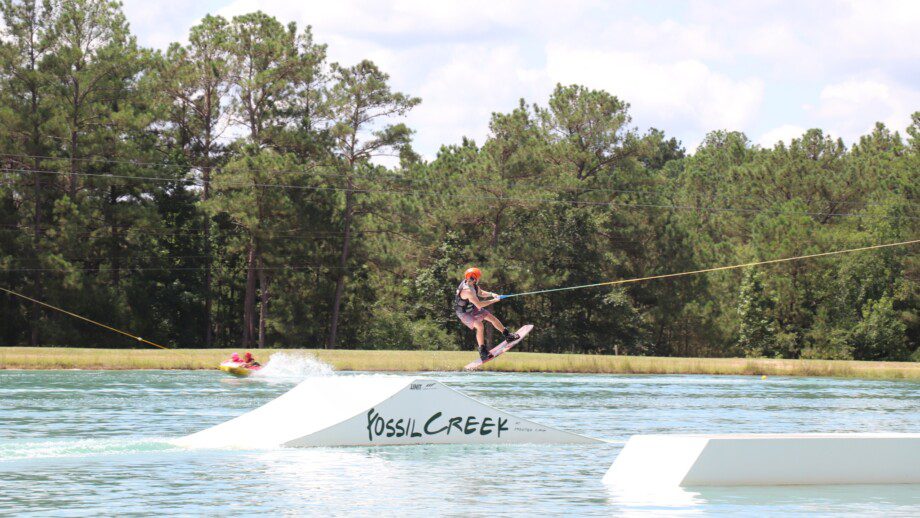 Frontier Camp
Cable Wake Parks
Water Sport Resorts
Address
131 Frontier Camp Rd.
Grapeland
Texas
United States
Email:

Phone:

Website:

Instagram:

Facebook:
Water Sports
Wakeboard
Waterski
Wakeskate
Features
Rails/Kickers/Ramps/Boxes
---
About
Discover A Camp Focused On Sharing God's Word Through His Creation. Set in the beautiful East Texas piney woods on sparkling Houston County Lake, Frontier Camp offers the perfect place for your next retreat, including the opportunity to wakeboard and waterski!
Junior weeks are 7 days and 6 nights (Sunday afternoon through Saturday morning) of the best activities, friends, food, songs, skits, fun and Biblical lessons you'll have all year. Each day features a fun-filled daily schedule which includes 4 activity skill classes of your choosing, delicious meals, Biblically-based teaching times, and a special evening activity every night. This week is designed especially for campers ages 7-12* and is the perfect addition to anyone's summer!
During junior weeks we use top of the line skis and competition ski/wakeboard boats for our popular waterskiing classes. Campers get ski time every day and all ages and skill levels are welcome: we LOVE to teach beginners!
Teen weeks are 7 days and 6 nights (Sunday afternoon through Saturday morning) of adventure races, water sports, a rodeo, nighttime action games, laser tag battles, ropes course undertakings, cabin challenges, laughing with your friends, and the most epic week of your whole year! Top it all off with Biblically based teaching focused on subjects relevant to today's teens, and this week designed especially for campers ages 13-17* is the perfect addition to anyone's summer!
Teen weeks have access to the Fossil Creek facility, our Cable Park. It is the absolute best way to learn watersports such as wakeboarding, wakeskating, or skiing. The FC Cable Park sports two floating features – a flatbox and a kicker – to help campers progress in their riding. You'll love the relaxing atmosphere of the cable park as you can hop right off the water and sit on the sidelines as your friends take their turns.
Additional details
Boat(s) in Use:

--

Available Gear:

Yes

Hours of Operation:

--

Reservations Required:

Yes
Water Located On:

Houston County Lake

Water Temperature:

--

Other Watercraft Traffic:

--
Additional on-site activities, accommodations:

Adventure challenge courses, archery, camping, crafts, FC Medley, horsemanship, Kayaking, outdoormanship, riflery, sports, swimming, wilderness survival skills, woodworking, the lagoon, crate stacking, ropes course, trail rides and rodeo practice, laser tag, skeet shooting, archery, whiffle ball, dodge ball, pit ball, field games, disc golf, gym games, and more!