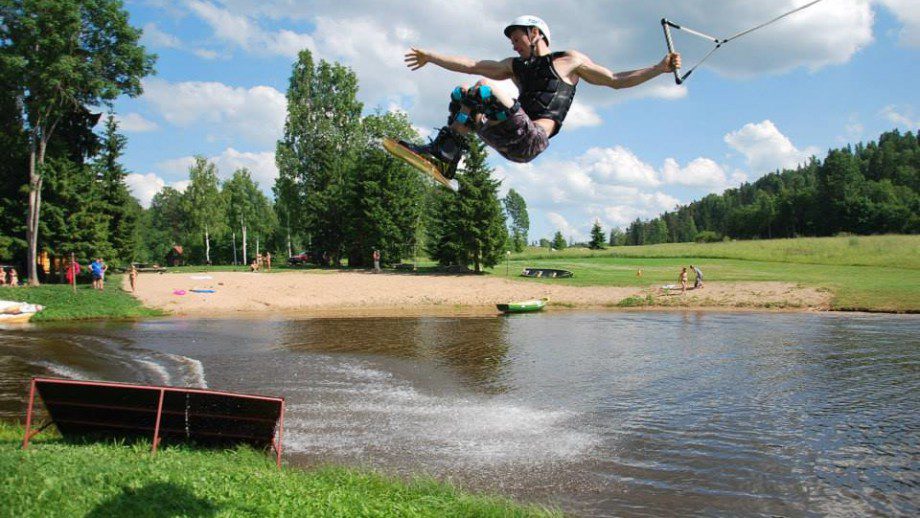 Otepää Wakepark
Cable Wake Parks
Water Sport Resorts
Address
Otepää
Valgamaa
Estonia
Email:

Phone:

Facebook:
Water Sports
Wakeboard
Waterski
Wakesurf
Wakeskate
Tricks
Jump
Tubing
Features
Rails/Kickers/Ramps/Boxes, Jump Ramp
---
About
OTEPÄÄ WAKEPARK- FUN FOR ALL! At Otepää Wakepark you can ride wakeboards and surfboards, go wakeskating and waterskiing, or use the water tubes and sledges. We have a special dual tower straight-line cable system in place. Equipment rental includes the item of choice (wakeboard, etc...) as well as the compulsory helmet and vest. Beginners get thoroughly instructed! For pros there are two 1,35m high and 4m long kickers, 0,5x16m box, wallride and other great features. In Otepää Wakepark we have a Wakestation including a 10,5m high two tower straight-line cablesystem with length of 211m. This system enables you to do high and effectful tricks out of the water. Otepää Wakepark is the perfect location for bachelor parties! We also offer gift cards: 2x10min + our equipment + instruction 12€ / 1 hour friends' pass + our equipment + instruction 30€. Ansomägi's rest area includes the Otepää Wakepark, the lake including a swimming area, as well as lakeside houses and camping and caravan areas. You can play volleyball, sit around the campfire or rent a hot tub. There are changing rooms and wc at the beach. In the summer there is an option to order guided service for fishing in the surrounding lakes. We are offering 2-3 hours lasting Gator-hikes in Otepää's sightseeing places.
Additional details
Boat(s) in Use:

--

Available Gear:

--

Hours of Operation:

May-September/ Mon-Fri:11am-8pm

Reservations Required:

--
Water Located On:

--

Water Temperature:

Summer 72-79 F

Other Watercraft Traffic:

--
Additional on-site activities, accommodations:

We are offering accommodation in two lake houses. There are 4-5 places in each lake house. Lake houses are just at the edge of the lake. There are TV, electric heating, kettle, fridge. Chairs and table on the first floor, sleeping on the second floor.