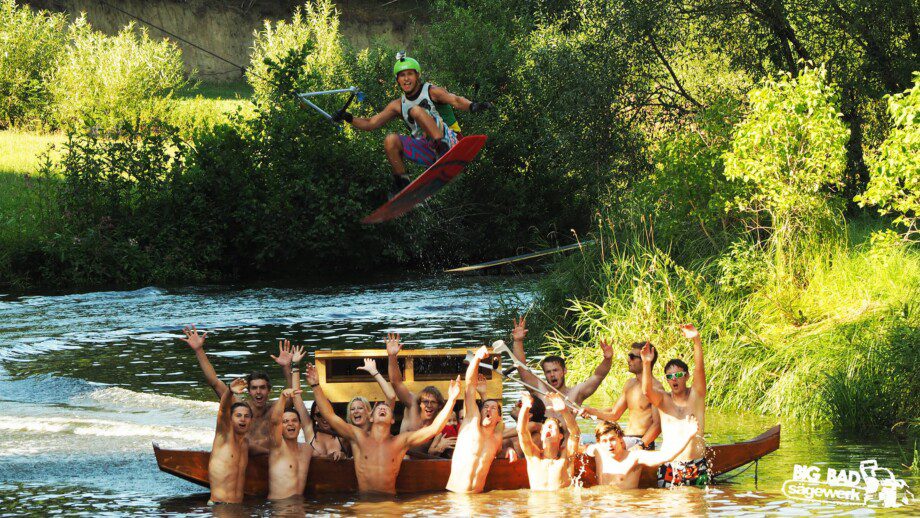 DIY Wakeboard Lift -Bigbadsägewerk
Address
Altenfelden River
Altenfelden
Oberösterreich
Austria
Email:

Please send us a message through our Facebook page

Phone:

Facebook:
Water Sports
Features
Rails/Kickers/Ramps/Boxes, Jump Ramp
---
About
At the sawmill in Altenfelden in Upper Austria a group of enthusiastic wakeboarders has teamed up to create a do-it-yourself wakeboard lift. We used inexpensive building material for this project - as pillars serve, for example, the surrounding forest provided sawed trees. Pulleys are made ​​of reclaimed car parts. Unique and original, as was built here - and claims to be in spite of everything great emphasis was placed on safety. The result is this project ostensibly because the wakeboarders were tired of always having to queue at the lift itself. Size / Obstacles: When the lift is a self-made 2-mast lift with a maturity of 330 meters wide. For the necessary driving a 5.5 kW three-phase motor, which is driven via a frequency converter ensures. Is operated with a remote self-constructed. The speed is infinitely variable from 0 to 40km / h. By the way - very sustainable and environmentally friendly - the current which is required for the operation of the lift, comes from our own hydroelectric power plant. Yes we also have obstacles. Thumbs Up!
Additional details
Boat(s) in Use:

--

Available Gear:

--

Hours of Operation:

Year round

Reservations Required:

Yes
Water Located On:

Altenfelden River

Water Temperature:

--

Other Watercraft Traffic:

--
Additional on-site activities, accommodations:

--