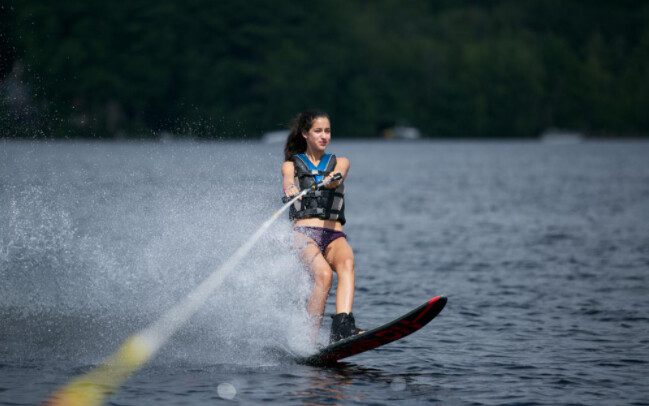 Camp Fernwood
Water Sport Schools
Water Sport Resorts
Address
48 Camp Fernwood Lane
Poland
ME 04274
USA
Email:

Phone:

Alt. Phone:

Website:

Facebook:
Water Sports
Wakeboard
Waterski
Kneeboard
SUP
---
About
Founded in 1921, Camp Fernwood is a nurturing, traditional sleepaway summer camp for girls, located in Poland, Maine on the shore of beautiful Lake Thompson. We are a community of 230 campers and 150 resident staff, and offer one full season session (7 weeks) for campers ranging from 8 to 15.
We offer a wide range of choices encouraging a balance between the active and the creative. Each Fernwood camper will participate in instructional swimming and several periods of tennis and canoeing weekly. Apart from the above requirements, each camper designs her own schedule prior to arriving at camp, with the help of her parents and the guidance of camp staff.
Groups within an activity are based on interest and/or skill level, not age or bunk family, allowing campers to learn at their own level of proficiency, not necessarily that of their peers. Our oldest campers (juniors and seniors) may "major," taking extra time to explore a camp activity in greater depth.
Lake Thompson is one of our favorite places at camp – Almost half a MILE of shore frontage with a huge sandy beach welcome you as you approach our Camp Fernwood waterfront area. Because of its pristine water quality, Lake Thompson is rated as one of the best 10 bodies of water in all of Maine. Activities include canoeing, kayaking, sailing, swimming, stand up paddleboarding, water-skiing, wakeboarding, kneeboarding, and distance swimming.
Additional details
Boat(s) in Use:

--

Available Gear:

--

Hours of Operation:

--

Reservations Required:

Yes
Water Located On:

Lake Thompson

Water Temperature:

--

Other Watercraft Traffic:

--
Additional on-site activities, accommodations:

Fashion Design and Sewing, Ceramics, Dance: Jazz, Contemporary Dance, Lyrical, Ballet, Hip Hop, Music: Guitar, Piano, Theatre, Set Design, Lighting & Sound, Silversmithing, Print Making, Woodworking, Photography, Painting, Glass Fusion, Aerobics, Archery, Basketball, Field Hockey, Gymnastics, Horseback Riding, Lacrosse, Nature, Marksmanship, Rock Climbing, Ropes Course, Soccer, Tennis, Ultimate Frisbee, Yoga, Cardio Boot Camp CBC, and more.