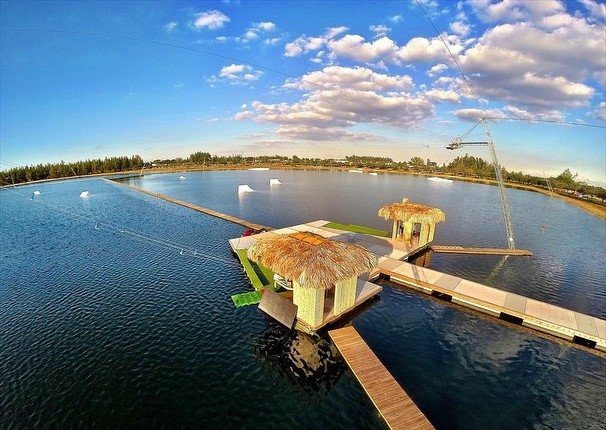 Miami Watersports Complex
Cable Wake Parks
Water Sport Schools
Water Sport Charters
Address
401 East 65th Street (Hialeah)
Miami
Florida
United States
Email:

Phone:

Website:

Instagram:

Facebook:
Water Sports
Wakeboard
Waterski
Wakesurf
Wakeskate
Kneeboard
Barefoot
Tricks
Disabled
Features
Rails/Kickers/Ramps/Boxes, Slalom Course
---
About
The Miami Watersports Complex (MWC) is the latest in water sports park design! MWC is the best way to learn and enjoy wakeboarding, wakeskating, wakesurfing, kneeboarding and waterskiing. It is set up with two full size cable systems with the latest design and technology to help in a riders success, as well as an awesome array of cutting-edge features. In addition, MWC offers a two-tower system, ideal for learning on and practicing new tricks.
MWC also offers water sport enthusiasts a 90-acre fresh water boat lake- all in the crystal clear water of Amelia Earhart Park. Boat lessons for wakeboarding take place behind the award-winning Super Air Nautique G23, while waterskiers get to experience shredding the water behind a Ski Nautique 200.
Plus, MWC has all the gear you'll need for an incredible day on the water.
Additional details
Boat(s) in Use:

CORRECT CRAFT NAUTIQUES 230/CORRECT CRAFT NAUTIQUES 200

Available Gear:

Yes, complete.

Hours of Operation:

Winter 10am-5pm / Spring, Summer, Fall: 8am-7pm. Open every day of the year!

Reservations Required:

Yes
Water Located On:

Amelia Earhart Park. Exclusive Fresh and Crystal Water Lake.

Water Temperature:

Summer 80 F/ Winter 70 F

Other Watercraft Traffic:

No- only our boat.
Additional on-site activities, accommodations:

Holiday Inn Hotel & Aqua Park