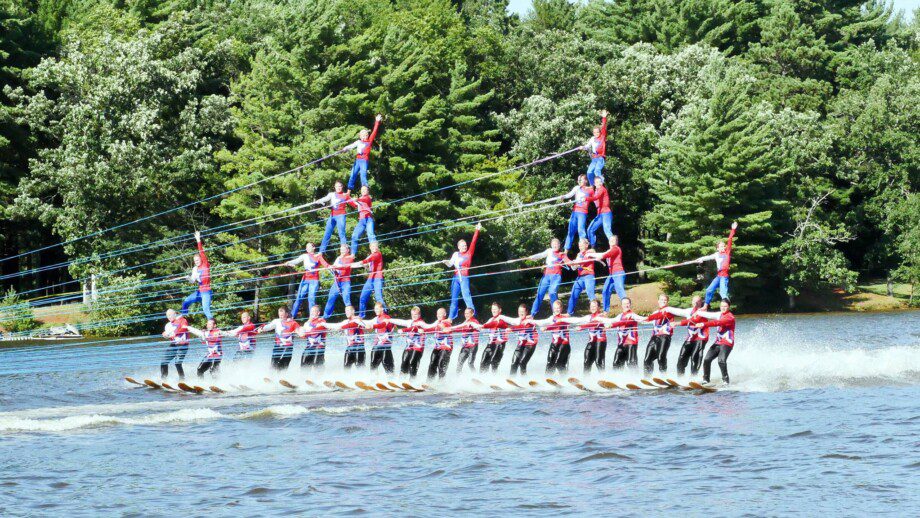 Badgerland Water Ski Show Team
Address
1136 Baxter St
Waukesha
Wisconsin
United States
Email:

Please contact us through our website

Website:

Instagram:

Facebook:
---
About
Badgerland Water Ski Show Team was formed in 1983 when the KeeWees of Lake Keesus and the Nagawautics of Lake Nagawicka joined forces. In 1983 Badgerland entertained crowds on the waters of Lake Keesus and Lake Nagawicka. In 1984 we skied solely on Lake Keesus and continued on Lake Keesus until the resort was shut down in 1994. Through the years we were on and off other lakes. In 1985, 1986, 1987 our second site was on Silver Lake in Oconomowoc. Then in 1988 and 1989 we were back on the waters of Lake Nagawicka.
In 1990 we skied for the first time at Frame Park on the Fox River in Waukesha through 1991. In 1992, Frame Park was renovated and we were not able to ski on the Fox River and we skied solely on Lake Keesus. In 1993 and 1994, we again skied on the Fox River and Lake Keesus, but this was the last time we were able to ski on beautiful Lake Keesus, where the KeeWees started back in 1967. So from 1995-1998 we had only one practice and one show in Waukesha, but in 1999 we returned to the city of Oconomowoc as they allowed us to put on shows at Fowler Park on Fowler Lake a few times a summer. Today, we perform weekly in Waukesha on the Fox River and once a month in Oconomowoc at Fowler Park.
Our Family of Champions is getting bigger and better every year. Upon joining the team, you have extended your family by some 80+ people. Our goal is to get together, ski, perform, compete, and most of all have fun!
The unique style of our show encompasses theater, dance, gymnastics, and the most difficult water skiing maneuvers. Consistently crowned the most entertaining team in the nation, Badgerland thrills enthusiastic audiences of all ages and backgrounds.
Our membership includes both skiing and non-skiing participants. A ski show production requires many people. Non-skiing members have roles on the team that include: boat / act driving, spotting/pinning, safety/pick up boat, dock crew, sound technicians, costume sewing and backdrop construction/painting.
Additional details
Boat(s) in Use:

--

Available Gear:

--

Hours of Operation:

--

Reservations Required:

--
Water Located On:

Fox River @ Frame Park

Water Temperature:

--

Other Watercraft Traffic:

--
Additional on-site activities, accommodations:

--