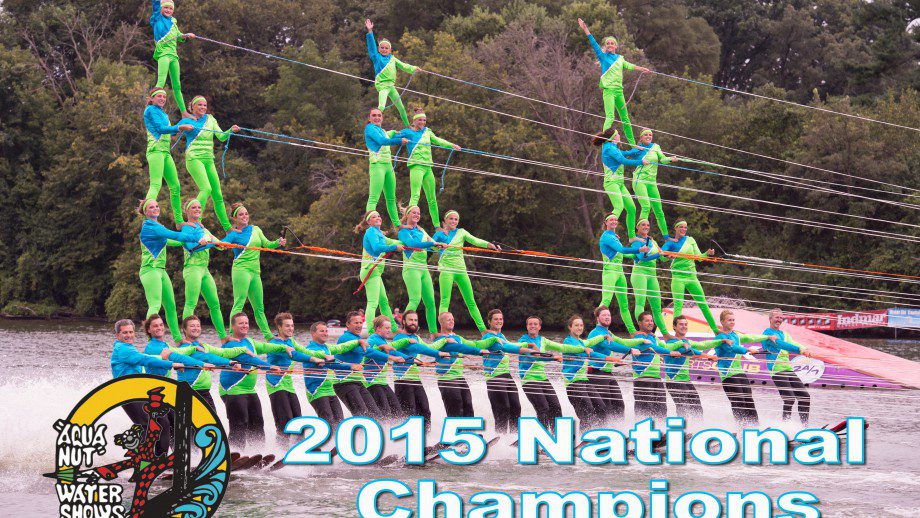 Aquanut Watershows
Address
55 Lance Dr
Twin Lakes
Wisconsin
United StatesLance Park
Water Sports
Wakeboard
Waterski
Barefoot
Tricks
Jump
Show Ski
Hydrofoil
Disabled
Features
---
About
2015 was spectacular for the Aquanuts as they were awarded the title D1 National Champion Show Ski Team! The team's trip to the national tournament in Janesville, WI was a dream come true by executing a near flawless performance, and achieving a first place finish. The show's theme, created by Show Director Ken Meyer and Justin Mushel, was centered around the 1978 comedy movie Animal House and the comedic exchanges between the administration and students of the campus "frat house".
To start the tournament season, the Aquanuts competed in June at the Mercury Invitational in Janesville, WI placing third overall. In July, they competed at the 49th annual Wisconsin Water Ski Show Championships in Wisconsin Rapids on Lake Wazeecha and placed third. An award was presented to swivel skier Kaila Coffey who placed second in the Individual Swivel Competition. The Back Barefoot Circle Act, performed by Kailey Koehler, (ranked #1 in USA, #3 World-ranked bare-footer), her sister Ariana Koehler (ranked #3 in USA) and Collin Barber, was the highest scoring barefoot act at the weekend competition. In addition, Kailey Koehler was named the 2015 Jennifer Dibble-Woods/Michelle Cook Award winner for the most outstanding female skier of the competition. An Aquanut member has held this award for four years in a row.
The season's highlight was winning the National Team Title in August at the 4first Indmar Marine Engines Division 1 Show Ski Nationals, a feat that last occurred 31 years ago in 1984. The Aquanuts won Best Ballet Line for the fifth year running. The 31-person ballet line consisted of 9 ladies swiveling, followed by a "thread-the-needle quick pick up" of the remaining 22 ladies. Kailey Koehler and her difficult backward barefoot circles won the Best Barefoot Act of the tournament. Kailey barefooted backwards four times around the show course and ended in a well-deserved standing ovation. The Aquanuts also won the award for Best Swivel Act. With 2014 National Champion Kendall Krieger and nationally ranked skier Kaila Coffey (ranked #3 in USA) as anchors, they were followed by a 360° swivel line and 180° swivel line of ladies. Together this is the largest swivel act in the nation with 14 women strong. The team completed two grand pyramids. The show started with a double top, four-high pyramid and closed with three, four-high pyramids comprised of 36 team members. The Men's Variety Act, which had wowed the opening of every show all season long, was also a high-scoring act. It included members Ethan Shulda, David Thornton, Jarad Meyer, Brandon Kirchens, and Collin Barber. In December, the Aquanuts were officially named by USA Water Ski - National Show Ski Team of the Year. Three of our talented ladies are again named to the USA Show Skiing Team: Kendall Krieger, Ariana Koehler, and Kailey Koehler.
What an incredible year!
Additional details
Boat(s) in Use:

Centurion and Dyna Ski

Available Gear:

All necessary

Hours of Operation:

Daily Spring-late Fall

Reservations Required:

Yes
Water Located On:

Lake Mary

Water Temperature:

--

Other Watercraft Traffic:

--
Additional on-site activities, accommodations:

--