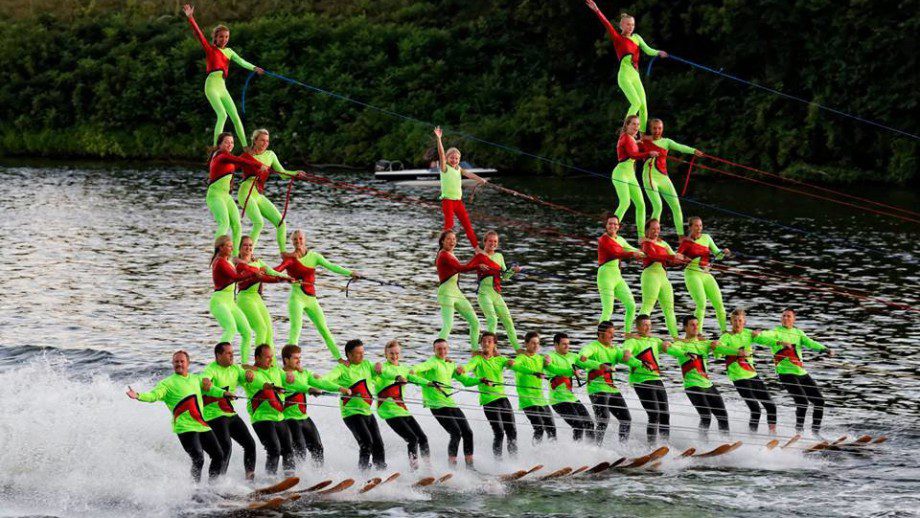 Ski Broncs Water Ski Show Team
Address
Shorewood Park
235 Evelyn Ave.
Loves Park
Illinois
United States
---
About
Come join Ski Broncs Water Ski Show Team for a summer of fun and excitement!
We are an organization that performs 30-35 ski shows at our home site located at Shorewood Park in Loves Park, Illinois. We also occasionally perform out of town and compete annually in the USA Water Ski Regional and National Tournaments.
Our group's energy and efforts are invested in providing the community a high caliber of entertainment. During the winter months you will find us planning our new shows, practicing in a local gym, ordering fabric and making costumes and socializing. Our peak season begins in April and ends in September. During these months you will find us at our home sight Monday – Friday. Wednesdays we perform shows for the general public. Other nights of the week are spent on practicing acts and polishing the show for our competitions. We also offer a B-Team which consists of skiers just learning the Show Skiing environment.
We encourage family memberships. Membership is from January – December. A family membership includes members of the immediate family. Those family members reaching the age of 18 as of January 1st must obtain their own membership unless they are full time students, claimed as such under the IRS tax laws. Applicants under the age of 16 must join through a family membership.
Our organization consists of non-skiers as well as skiers. If you are not a skier, there are many other areas to become involved in, such as working with the sound equipment, helping with costumes, working in the concession stand, driving or spotting in the boats, helping on the dock, or designing and building props.
We, The Ski Broncs Water Ski Show Team, hope you join us soon!
Additional details
Boat(s) in Use:

Dyna-Ski

Available Gear:

--

Hours of Operation:

Wed: 7:00 pm - 8:30 pm Memorial Day to Labor Day

Reservations Required:

Yes
Water Located On:

Rock River

Water Temperature:

--

Other Watercraft Traffic:

--
Additional on-site activities, accommodations:

Free shows